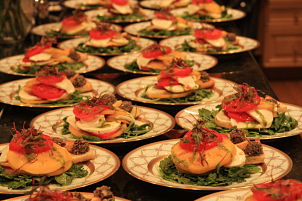 Treasures of World Cuisine
Choose from traditional dishes

or

contemporary creations in their
authentic regional style.


Either way, you will enjoy sophisticated flavor combinations brought about by centuries of culinary evolution.
We offer the best of regional cuisines from all over the world, utilizing the talents of native-born chefs who have grown up with their individual culinary traditions, and have them
"in their blood!"
Traditional or contemporary, enjoy catering unmatched in authenticity, with the subtlety and nuance of flavor that can only be imparted by a master of the cuisine.
Event Finesse proudly presents French catering, Italian catering, Spanish catering, Japanese catering, Latin American Catering, and Middle Eastern Catering, among many others, all prepared by regional masters.
Contact us to discover just how wonderful an artfully prepared meal can be!
Event Finesse brings you the talents of master chefs from around the world