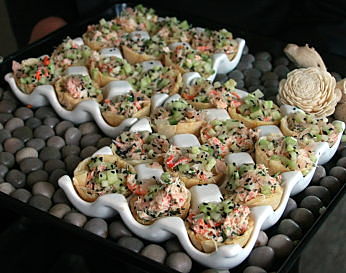 Event Finesse understands
hors d'oeuvres!
The best are visually inspiring, wonderfully flavorful, and easily enjoyed in a single, delectable bite.
They should be an inspiration and an invitation to what is to follow.
Enjoyed as a prelude to a meal or as a complement to conversation -
with cocktails, during an event or
prior to a presentation -
the perfect hors d'oeuvres can help
set the mood and set your event apart
as something special!
Tiny Bites
of
Perfection!
Hors d'oeuvres. Canapés. Appetizers.
Something small and delicious to whet the appetite!